This section of the newsletter is comprised of news stories, press releases and links to Internet articles that are sent in by our members who believe they will be of general interest to the membership.  We include them as a courtesy to our members but do not verify or edit their content.  Their inclusion does not constitute an endorsement by the CMAOntario nor do their contents reflect the views or opinions of the CMAOntario. If you would like to have something included in the newsletter, please send us a short synopsis, a photo or graphic and the hotlink that can be included in the news listing. Submissions can be sent to verle@cmaontario.ca. Please make sure the Subject Line reads "For inclusion in the CMAOntario Newsletter". The deadline for submissions is the 20th of each month.
---
Black Out Tuesday
June 2 was designated Black Out Tuesday by many of the global music industry's leading companies. The initiative was considered a statement of solidarity in response to the death of George Floyd in Minneapolis. Those who pledged to cease business activity on the day included Atlantic Records, Capitol Music Group, Columbia Records, Def Jam, Elektra Music Group, HitCo, Interscope Geffen A&M, Island Records, Peermusic, Dirty Hit, Pulse Music Group, Republic Records, Sony/ATV, Sony Music, Universal Music Group, Virgin EMI and Warner Records. Some companies also donated to Black Lives Matter and other non-profits.
Under the hashtag #THESHOWMUSTBEPAUSED, a message circulated widely on Instagram and other social media platforms on May 29 called for "a day to disconnect from work and reconnect with our community" and "an urgent step of action to provoke accountability and change."
(Source: FYI Music News)
---
"We Are One" Hits More Than 150K Views
Congratulations to Jason McCoy and everyone involved with the We Are One World Song Project. "We Are One" has already hit more than 150K views on YouTube and over 350K views on all platforms.
The song is about hope and the human spirit. The singers and musicians who performed on this track recorded their parts in isolation in their home studios. "We Are One" was written, recorded and the video produced and completed in 16 days – a true labour of love.
All are encouraged to record their own version and share it on socials with their friends. All assets required are available here.
(Source: Member Submission)
---
Jessica Sole Announces Release of EP, Here For The Long Run
Country artist and songwriter Jessica Sole is excited to announce the release of her EP Here For The Long Run, available to be downloaded from all streaming platforms on Friday, June 19th, 2020 at midnight (EST).
Here For The Long Run features 5 original songs written by Jessica Sole. The EP includes her debut country single "Here for the Long Run" which is catchy, fun, upbeat, and helps promote the importance of self-love. Jessica and her band, The Badlands, have worked for two years working on the songs on the project, and have performed them live many times at local bars, restaurants, and festivals.
Jessica Sole describes her sound as bright, fresh, and honest. Her unique voice has a sweet, north of Nashville twang and a clear delivery that has been compared to Tennessee honey. Her clean tone makes it very easy to lose yourself in the lyrics to her music. Written by Jessica Sole, and co-produced by Jessica Sole and Emile d'Eon, Here For The Long Run features 5 relatable tracks which explore love, heartbreak, and female empowerment. "Safe Haven" is an emotionally moving country ballad with Allison Krauss influences. It features a captivating melody in the chorus that pulls you in, and will leave you humming after. "You're So Lonely" is a high energy breakup song about turning away someone who isn't good for you. "You're So Lonely" has Dixie Chicks influences similar to Sin Wagon and features a driving train beat that's hard not to dance along with. This EP showcases Jessica's talents as a songwriter as well as an artist. Make sure you're following along with Jessica for more updates on her music.
(Instagram: @jessicasole_, Facebook: /jessicasolemusic, www.jessicasolemusic.com)
(Source: Press Release)
---
Kansas Stone Proves "Together We're Strong"
As many musicians attempt to find new ways to reach their audience, close to 20 Canadian artists have released a single that looks to give back to the industry.
"Together We're Strong" is the new single by Brian Harwood of Barrie country band Kansas Stone and many other country acts from around the country.
"Everything in our industry stopped back in March," said Harwood. "Musicians and even the establishments where they play have been hit huge. I really wanted to be involved in something that gave back to the industry I love."
As a result, funds raised will go to the Unison Benevolent Fund, a non-profit, registered charity that provides counselling and emergency relief services to the Canadian music community.
Harwood connected with his friend and fellow country artist Dustin Bird to create the single "Together We're Strong". The duo co-wrote the track, which features 18 Canadian country artists including Cory Marks, Jason McCoy, Aaron Pritchett, Alee, and Jason Blaine.
The video is dedicated to the memory of fallen Snowbird Capt. Jennifer Casey.
The project has partnered with Spotify, who will match every dollar donated. You can donate by texting UNISON to 45678 or visiting the website.
(Read More: Orillia Matters)
---
Help Support Musicians and #BuyMusicFriday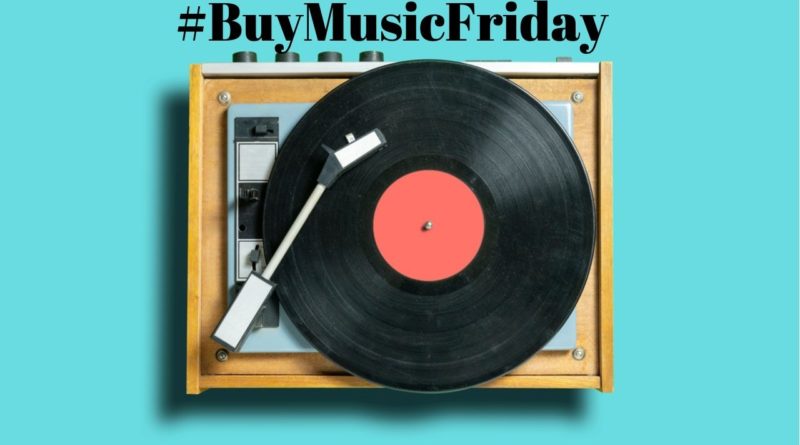 With no concerts to go to and no merch to buy, how can music fans help the artists they love to make sure they're still making music?
A group has a suggestion: Buy music on Fridays.
Much like Giving Tuesday after Black Friday in November and the recent trend of #TakeOutWednesday to support local restaurants struggling to stay afloat during shutdown orders, #BuyMusicFridays looks to encourage people to support their favourite musicians.
The idea is to put money in the hands of musicians by paying for albums or individual songs instead of just streaming.
This is also inspired in part by Bandcamp's pledge to give all proceeds from sales on the first Friday of each month through at least July to the artists on its platform, without taking its usual cut of the sale. The first Bandcamp Friday saw fans buy $4.3 million worth of music in March, with that amount expanding to $7.1 million on May 1. The next Bandcamp Fridays are slated for June 5 and July 3.
(Read More: A Journal Of Musical Things)
---
Tara Shannon Speaks Up With New Single "Say"
Canadian award-winning artist, Tara Shannon, teamed up with Advance Care Planning in Canada (lead by Canadian Hospice Palliative Association (CHPCA) in support of the #SpeakUp campaign by releasing a new single entitled "Say."
The single "Say" is streaming on Apple Music, Amazon, Deezer, Google Play, and Spotify.
Tara's single "Say," co-written with Hayley McLean, has a soulful and compassionate melody that lends itself well to the goal of the campaign; to help bridge a communications barrier between loved ones and the discussion around starting advance care planning. It's easy to assume the care wishes in the event of an accident or illness but taking the time to speak up and talk about it makes the difference down the road.
For more information visit tarashannonmusic.com
(Source: Member Submission)
---
In Canada, Artists Are Earning Performance Royalties for Livestreams
With Canadian artists off the road and performing virtual concerts on Facebook and Instagram, the performance rights organization SOCAN has created a new program, called Encore!, to help deliver royalties to performers during the COVID-19 pandemic. The program is retroactive from March 15 of this year until March 7, 2021.
Each online concert on Facebook/Instagram is eligible for a total payment of CAD $150 (USD $109), with the royalties split amongst all the rights holders of the music performed. Criteria-wise, the set must be at least 30 minutes in length or consist of 10 songs and have been viewed by at least 100 people (proven by a screenshot). Claims must be made within 90 days.
"Live performances on social media properties normally do not generate more than a few dollars in royalties for songwriters, composers and music publishers," it states in the press release. "Typically, royalties from music used on these platforms come from streamed and downloaded recorded music."
SOCAN has allotted $200,000 (USD $145,000) for each quarter.
(Read More: Billboard)
---
Suzi Kory Releases "Outlaw"
Suzi Kory follows up her country crossover-heartbreaker "Settle of the Dust" with "Outlaw" that features a punchier edge and more forceful lyrics. The video was shot in LA and features guitarist Matt Fuller and drummer Dave Moreno from Puddle of Mudd, as guitarist and drummer respectively. The idea for the song came from sharing a flight with Billy Ray Cyrus. Both were flying out of Toronto for LA where she planned to shoot the accompanying video. During their conversation she explained that she is an indie artist, and he was impressed with her outlook and brass, at one point suggesting that she has an 'outlaw outlook'.
Kory is already planning her next move––an online concert she's calling Love Revolution, which just happens to be the title of her next single that is scheduled for release in July.
(Source: FYI Music News)
---
Shae Dupuy Releases Lyric Video for "Hesitate"
Canadian Country Music Awards (CCMA) nominated artist Shae Dupuy has released a lyric video for her newest single "Hesitate". The song, written by Dupuy, Kyle Clark, and Chloe Henderson and produced by GRAMMY-nominated Nashville musician, Derek Wells (Dolly Parton, Kenny Chesney, Blake Shelton, Maren Morris) is available via all digital retailers (here).
A recognized singer-songwriter from Canada, Shae Dupuy, has been splitting her time between Nashville and her home territory, Toronto, Ontario, over the last two years so that she can focus her efforts on writing and recording new music.  "Hesitate" is her first single release in three years, and is her first US release.
(Source: Member Submission)
---
International Songwriting Competition (ISC) Announces 2019 Canadian Winners

On May 6, the International Songwriting Competition (ISC) announced its 2019 winners. Established in 2002, ISC is the world's largest international songwriting competition, receiving over 18,000 entries from 140 countries in 2019. More than $150,000 in cash and merchandise is awarded to 71 winners in 23 categories covering all genres of music.
Judges Include: Coldplay, Tom Waits, Tanya Tucker, Nancy Wilson (Heart), Kristian Bush (Sugarland), Avery Lipman (Founder/President, Republic Records), Nate Albert (Exec. VP of A&R, Capitol Records), and more.
Winning ISC is an honor awarded to many artists whose careers have been successful. Previous winners have included: Gotye; Lindsey Stirling; Kimbra; The Band Perry; Kehlani; Gregory Porter; Passenger; Lupe Fiasco; Missy Higgins and many more.
ISC's highest honor is bestowed to Australian artist and songwriter Tones And I for the song "Dance Monkey." The Grand Prize consists of $25,000 in cash (USD) and almost $45,000 in additional prizes.
ISC is pleased to announce that 40 Canadian songs are winners in the competition, garnering two First Places, one Second Place, four Third Places, and 33 Honorable Mentions.
Canadian First Place Winners
"Honesty" – Tim Moxam – Toronto, ON, Canada – Music Video
"I Do" – Khalid Yassein, Devan Glover, Robyn Dell'Unto (Wild Rivers) – Toronto, ON, Canada – Folk/Singer-Songwriter
Canadian Second Place Winner
"Istanbul" – Scot Robinson, Bobby Cameron (Scot Free Sessions) – Edmonton, AB, Canada – Lyrics Only
Canadian Third Place Winners
"Fingerblasting Women" – Avery Pearson, Scout Durwood (Scout & Avery) – Toronto, ON, Canada – Comedy/Novelty
"I Am The Storm" – Carl Bernard – Kitchener, ON, Canada – Lyrics Only
"Let Me Go" – Mathew van Vooght, Dan Mangan (Mathew V) – Vancouver, BC, Canada – Performance
"No Eyes For Me" – Harpdog Brown, Mike Ross – Vancouver, BC, Canada – Blues
Some familiar Ontario names are among the Honorable Mentions in the Country category:
Just Like A Country Song
Jake Mathews, Dave Thomson, Patricia Conroy (Jake Mathews – Sudbury, ON, Canada)
Shame On Me
Jay Allan, Mike Ure, Aidan Johnson-Bujold (BUCKTWENTY – Bothwell, ON, Canada)
For a complete list of 2019 winners and to hear the winning songs, go to: https://www.songwritingcompetition.com/winners.
(Source: Press Release)